Holland College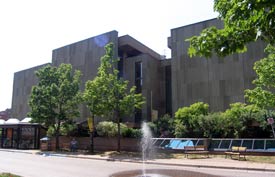 Holland College
Whether you are graduating from high school, transferring from another post-secondary institution, want to up-grade your skills or plan to make a career change, Holland College has more than 65 full-time career training programs to help you reach your goals.
At Holland College, our students and the quality of their learning experience is our top priority. We are extremely proud of the excellence and innovation shown by graduates who have taken what they've learned at the college and applied it so successfully in the fields of aerospace, business, culinary, health, law enforcement, marine, tourism, trades and technology, and sport and recreation. Holland College's reputation as a leader in hands-on, skills-based training is putting our graduates to work all over the world.
While the quality of your career training program is key to your post- secondary experience, so too is the environment in which you learn. At our training centres across the island, students are made to feel at home in a friendly and comfortable setting. Instructors have time for their students, and there is a personal quality to the learning experience. Small class sizes allow our students the opportunity to develop friendships that will last a lifetime.
Prince Edward Island Universities