Marine Institute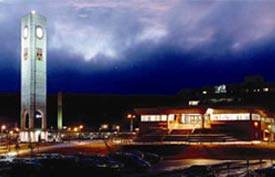 Marine Institute
Headquarters on Ridge Road in St. John?s, Newfoundland, the Marine Institute (MI) is Canada?s leading centre of fisheries and marine training. We are part of Memorial University of Newfoundland, and we offer bachelors and masters degrees, one-year advanced diplomas, two-year and three-year diplomas and certificate programs. MI is divided into three schools: the School of Fisheries, the School of Maritime Studies, and the School of Ocean Technology.
The institute has a number of centres and units, including the Offshore Safety and Survival Centre (OSSC), the Centre of Marine Simulation (CMS), the Centre for Aquaculture and Seafood Development (C-ASD), MI International and the Centre for Sustainable and Aquatic Resources (C-SAR). These areas lead the institute in applied research and technology transfer and also provide training to a variety of industry clients.
The Marine Institute is one of only five public educational institutions in Canada to have ISO 9001 certification. The International Organization for Standardization rating is a voluntary, globally recognized standard for organizations committed to providing quality products and services that are efficient, consistent and continuously improving.
Newfoundland and Labrador Universities