Centre for Nursing Studies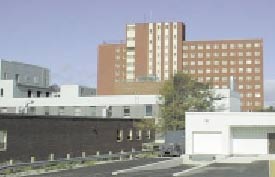 Centre for Nursing Studies
The Centre for Nursing Studies, established in 1996, is operated by Eastern Health. The Centre for Nursing Studies offers a variety of programs designed to provide high quality nursing education in a continuously changing health care system. The Centre prepares caring, skilled and knowledgeable nurses and practical nurses.
In the fall of 1999, the Centre for Nursing Studies campus relocated to its permanent home at Southcott Hall, 100 Forest Road in the east end of St. John's. This new location provides state of the art lecture theatres, conference and lab facilities, a learning resource centre, student facilities, as well as administrative and faculty offices. The technology available at this site enhances the capabilities for delivery of both on-site and distance education programs.
The Centre for Nursing Studies has approximately 40 full-time faculty members, as well as a large number of part-time faculty. Each year, the Centre admits approximately 120 students to the Bachelor of Nursing (Collaborative) program, approximately 70 students to the Practical Nursing Program, approximately 15 students to the Nurse Practitioner Program and additionally provides post-basic learning opportunities for both registered and practical nurses.
Newfoundland and Labrador Universities