Saskatchewan Institute of Applied Science and Technology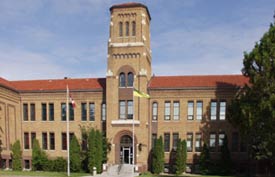 Saskatchewan Institute of Applied Science and Technology
The Saskatchewan Institute of Applied Science and Technology (SIAST) is Saskatchewan's primary public institution for skills training and technical education, recognized nationally and internationally.
Through partnerships with business and industry, we ensure our curriculum matches opportunities and needs in the workplace - an approach that results in high employer satisfaction with SIAST graduates. Our consultative approach and commitment to real-life learning contribute to a consistently high graduate employment rate.
Almost 12,000 students are enrolled in our programs and we draw more than 28,000 additional individual registrations. About half of our students come directly from high school or other post-secondary institutions and half come from the workplace.
Saskatchewan Universities