The University of Saskatchewan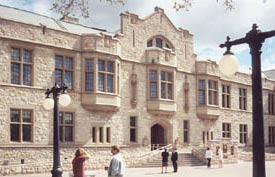 About The University of Saskatchewan
The University of Saskatchewan is a coeducational public research university located on the east side of the South Saskatchewan River in Saskatoon, Saskatchewan, Canada.
When you first arrive at the University of Saskatchewan you will be amazed at the beauty of the campus"with its striking greystone neo-gothic architecture, majestic elm trees and magnificent river view, you will agree that the U of S is one of North America's best.
From inspirational surroundings come remarkable people. U of S alumni are Rhodes Scholars, Nobel Prize winners, renowned researchers, innovative teachers and leaders in business, education, government, athletics, healthcare and the arts.
The U of S is home to the nation's only facility for synchrotron light research"the Canadian Light Source. From state-of-the-art laboratories to the experimental plots of the campus farm, the U of S is as diverse as its people. Students from 87 different countries attend and enrich the classrooms with ideas from different backgrounds and points of view.
Saskatchewan Universities