The University of King's College - Halifax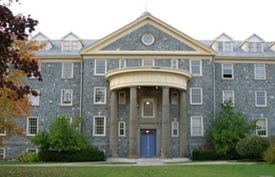 About The University of King's College
King's is a place where we value and nourish ideas. Discussions flow effortlessly from the tutorial room to the stairwell, across the campus to the dining hall and back out into the quad. There's no better environment for developing an analytical eye and an inquiring mind, or for growing as an individual while you explore possibilities. Professors from other institutions say it's easy to recognize King's students by the way they apply logic, the way they ask questions and by their writing ability.
In any given year, the King's Students' Union may sponsor more than 50 societies. The activities of the societies are as varied as the interests and the talents that students bring to them. From filmmaking to paragliding, dancing to camping, tutoring to environmental street theatre, there is always something to do and a contribution to make.
You will find extracurricular activities which represent a blending of the academic and the social. For example, the Foundation Film Society presents film screenings which have some relation to Foundation Year Programme studies. There are also societies which correspond with various academic specializations such as the Contemporary Studies Society. A vibrant evening lecture programme brings new insight to your in class academic pursuits. View a sample list of visiting lecturers and other events from the 2006-2007 academic year. And special King's traditions will link you to our rich history and spirit.