Cape Breton University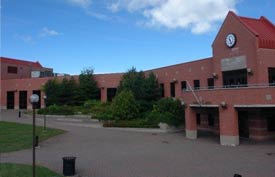 Attending Cape Breton University
Cape Breton University enables learners by maintaining low student/teacher ratios. university professors are committed to providing quality education to learners in an accessible, student friendly environment. university class sizes are the envy of other institutions, affording both students and teachers opportunities for discovery and interaction not available in larger classes.
Beyond our excellent class size, our classrooms are on the cutting edge of technological innovation. Cape Breton University provides Smart Classrooms, classrooms equipped with technology designed to support and enhance instruction. This technology includes an on-site computer configured as network host, a fixed ceiling mounted LCD projector, a fixed projection screen, and a sound system. Smart Classrooms further enable university to provide better resources and services through an initiative to convert or upgrade the classroom experience.
The transition between classroom and workplace is made easier though university's Co-operative Education work placement, internship, and work/study programs. Available in many disciplines, Cape Breton University Co-op placements are designed to integrate academic study with practical, paid work experience. university maximizes accessibility to post secondary education with the most flexible credit transfer policy in Canada.
About Cape Breton University
Discover a world of opportunity. Invest in a Cape Breton University education. Rooted in a solid academic tradition, and poised to explore the frontiers of creative and scientific innovation, Cape Breton University inspires personal and professional excellence. The university's distinctive blend of degree, diploma and certificate programs allows students to pursue dynamic fields of study and to design a university education ideally suited for success in liberal arts, business, science, and technology. Cape Breton University is the perfect fit for students beginning their post secondary studies, or for those looking to enhance their skills or develop new areas of expertise.