The Universite Sainte-Anne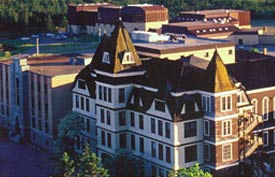 About The Universite Sainte-Anne
Universit�© Sainte-Anne is a university in Pointe-de-l'��glise (Church Point), Nova Scotia, and the only francophone university in Nova Scotia. Universit�© Sainte-Anne offers many university-level programmes as well as college-level diploma programmes. It has two faculties and one school: the Facult�© des Arts et Sciences, Facult�© des Programmes Professionnels and the French Immersion Programme.
In the Faculty of Arts and Sciences, one may pursue studies in several fields: French language, literature and linguistics, history, Canadian studies, Acadian studies, commerce, English language and literature, Biology, Chemistry, Physics, General Sciences, Pre-Veterinary Studies, and Health Sciences.
In the Faculty of Professional Programmes, students may pursue studies in Administrative sciences, computer technology, office administration and education. The most popular majors are: French, commerce, business administration and education. Through its Halifax campus, Universit�© Sainte-Anne offers a 1-year Bachelor of Education programme and a Master of Education programme.