St. Francis Xavier University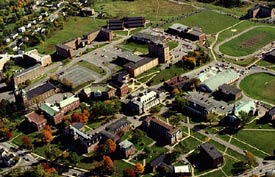 About St. Francis Xavier University
St. Francis Xavier University is a Canadian university located in Antigonish, Nova Scotia. StFX is a stepping stone to a world of opportunity and adventure. Since 1999, more than $120 million has been invested in new academic buildings, residences and athletic facilities - all built to provide an unequalled student experience.
StFX is one of Canada's most residential universities with almost half of the student population living on campus, helping fuel the legendary sense of community. With extensive wi-fi coverage, Starbucks coffee, campus pubs, sporting events and so much more, StFX is a vibrant community where you will thrive.
Students can travel to Latin America as part of the service learning program where they help local communities with badly needed infrastructure. Or there is the Xtending Hope project which tackles the HIV-AIDS pandemic in Africa. And internships with StFX's globally recognized Coady International Institute put students at the front lines of community development in developing nations. There are also many opportunities to study abroad at universities linked to StFX. StFX connects you to the world. You are limited only by your sense of adventure.
Between the years 2000 and 2004 more StFX students, on a per capita basis, have received Natural Sciences and Engineering Research Council (NSERC) awards for post-secondary study than any other university in Canada.