Dalhousie University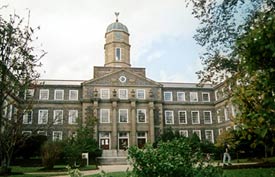 About Dalhousie
Dalhousie University blends the finest academic traditions with innovative thinking and outstanding educational opportunities. Here, in one of North America's most dynamic university communities, is a warm and welcoming university that attracts students from around the globe. With 11 faculties and more than 3,600 courses in 180 areas of study, Dalhousie offers students a wealth of choice and flexible degree programs.
Faculty at Dalhousie
The calibre of Dalhousie's faculty is key to its reputation as an academic leader. Dal's faculty members are nationally and internationally recognized for their achievement, research and teaching.
Many of the professors are award winners. Outstanding work has been recognized in the appointment of three new University Research Professors: Philip Girard (Law), Gregory Hanlon (History) and Hal Whitehead (Biology). Professor Peter Aucoin (Political Science) " who won the prestigious Vanier Medal in 2005 " was appointed as a Fellow of the Royal Society of Canada and given the Award for Teaching Excellence by Dalhousie Alumni Association. Professor Axel Becke (Chemistry) was selected as a Fellow of the Royal Society (Great Britain.) Dalhousie professors hold 45 Canada Research Chairs " more than at any other university in the Atlantic Region.