The University of Quebec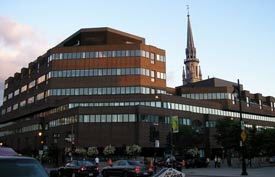 The University of Quebec
The University of Quebec is a system of nine provincially-run public universities in 54 cities across Quebec, Canada. The university has over 85,000 students, making it the largest university in the province, and the country and offers more than 500 programs. It was created in 1968 by an act of Quebec's National Assembly.
Since 2005, it has placed among the top ten Canadian universities for research grants and top among those universities without a medical faculty. The " mobility program " gives students the flexibility to study at any of the university establishments within its Qu�©bec network. The university's faculty members have established partnerships in Asia, Europe, the Americas and Africa, through which the
institution remains at the forefront of developments in world-wide research.
From its very beginning, the Universit�© du Qu�©bec has been a pioneer in the area of distance education thanks to T��LUQ. Thus, students needing to balance studies work
and family, can access university education in French whether within a regular program or to upgrade their studies. In an effort to diversify its offerings in this area, a recent agreement has linked T��LUQ to UQAM. T��LUQ's mandate is now to offer UQAM's distance education programs, but also to support the development of the open university within the Universit�© du Qu�©bec network.