Concordia University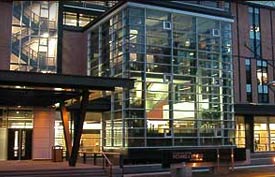 About Concordia University
Concordia is an urban university which is responsive to the needs of a diverse student population as well as to the bilingual and multicultural environment in which it resides. It is a welcoming community where values of equality, non-discrimination and tolerance of diversity are appreciated and actively promoted.
In 1998, the groundwork was laid for the development of new university buildings to accommodate growing enrolment. Among other developments, the Richard J. Renaud Science Complex opened at Loyola in August 2003, the Engineering, Computer Science and Visual Arts Integrated Complex opened on the Sir George Williams campus in September 2005, and the new John Molson School of Business building is scheduled to open in September 2009.
Recreation and Athletics
Concordia's Recreation and Athletics Department offers extensive opportunities for participation in intramural and intercollegiate sports with facilities on both campuses.
The Loyola campus facility is the focal point of Stingers varsity sports and intramural leagues. It also hosts a small number of instructional activities. The facility includes two full-length, state-of-the-art artificial playing surfaces with lighting, one of which is a 4000-seat stadium; the Ed Meagher Arena, a gymnasium and a modest weight room.
The new fitness centre " located on the Sir George Williams campus in the Engineering and Visuals Arts Pavilion " is a comprehensive workout facility and is the focal point of instructional programs.
International Students
Concordia recognizes the importance of international academic relations and operates a Student Mobility Office to develop and coordinate the University's international orientation. Professors and students travel worldwide, and Concordia continues to play host to visiting students and academics from around the globe.
Associations exist with universities in the United States, Central and South America, the Caribbean, Pacific Rim countries, Africa, Great Britain, and most European countries. Research/study programs have been developed in Costa Rica, England, Greece, and Italy. Concordia was the first Western university to establish a joint doctoral program with a counterpart in the People's Republic of China, and it maintains exchange programs with eight PRC academic institutions.
The University is a member of the Association of Commonwealth Universities and the Association of Universities and Colleges of Canada. The John Molson School of Business is accredited by the Association to Advance Collegiate Schools of Business.