McGill University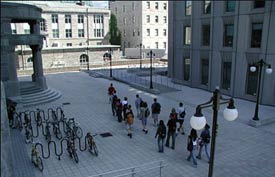 About McGill University
McGill University is public co-educational research university located in the city of Montreal. McGill has 21 faculties and professional schools and offers degrees and diplomas in over 300 fields of study. The university also has field research stations in Mont-Saint-Hilaire and Schefferville, Quebec; Axel Heiberg Island in Nunavut; and Holetown, Barbados.
McGill is Canada's top-ranked medical-doctoral university, ranking first in Canada for the third consecutive year in the Maclean's 17th annual University Rankings issue. The university has held first place in student awards for nine consecutive years, and consistently ranks first for reputation and average size and number of social sciences/humanities grants per full-time faculty.
The main campus is situated in downtown Montr�©al at the foot of Mount Royal. Most of the buildings are situated in a park-like campus north of Sherbrooke Street and south of Avenue des Pins between Peel and Aylmer streets.