Laval University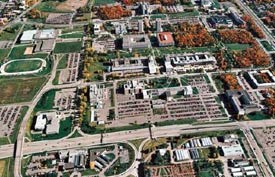 About Laval University
Universit�© Laval is the oldest centre of education in Canada, and was the first institution in North America to offer higher education in French. Its main campus is located in Quebec City, Quebec, the capital of the Province, on the outskirts of the historic city.
The University has many resources designed to help you succeed in your studies and launch your career. You'll find professors who are enthusiastic and available, a dedicated support staff, a library containing over four million documents, an unbeatable sports complex, and to cap it all, the best student placement service in Canada. In choosing Universit�© Laval you are following in the footsteps of more than 220,000 graduates with flourishing careers in Quebec, Canada and all over the world.
Over the last few years, Universit�© Laval, has recorded one of the highest graduation rate among Quebec universities. This remarkable achievement bears witness to the quality of the students Laval attracts and the quality of the programs it offers.