HEC Montreal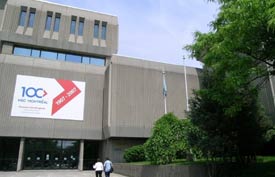 HEC Montreal
HEC Montreal is the affiliated business school of the Universit�© de Montr�©al is the first Management School of Canada. It is located in Montreal, Quebec, Canada.
The school is known for its extensive electronic capital, including one of the best-equipped trading rooms which is updated with real-time financial data by Bloomberg, E-Signal and Reuters. HEC Montr�©al was also one of the first schools to make use of laptop computers mandatory for its Bachelor of Business Administration students.
The major language of instruction at HEC Montr�©al is French, but many courses are offered in English and Spanish. Holding to its true international character, the school offers its innovative[citation needed] intensive HEC MBA program both in English and French with an option to take several courses in Spanish.