Bishop's University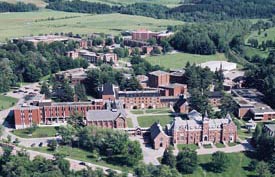 About Bishop's University
The Mission of Bishop's University is to provide a sound and liberal education primarily at the undergraduate level. Bishop's University was founded in 1843 by the Church of England and remained under their direction until 1947 when the Corporation of the University was reconstituted as a non-denominational body.
Bishop's is located in the small quaint community of Lennoxville, a suburb of Sherbrooke, the fifth largest city in the province of Quebec. The campus occupies a 500 acre tract at the junction of the St. Francis and Massawippi rivers.
Bishop's University Activities
There are more than 50 student clubs and organizations on campus, as well as over 30 intramural and recreational sports, a picturesque nine-hole golf course and six intercollegiate sports. Two theatres, an art gallery and renowned music recital hall provide students with numerous cultural experiences.
Exchange Programs
With over 500 universities worldwide to choose from, Bishop's offers one of the largest student exchange programs of any Canadian university. The Williams School of Business at Bishop's offers co-operative education program that can help students get invaluable real-world experience.
Going to Bishop's University
Bishop's has seven residences housing more than 650 students. Nearly 500 of these students are first year students. In addition, more than 30% of the student body lives on campus.
Students enjoy an average class size of 36 people for first-year courses and 12 people for upper-year courses. 32% of the courses offered at Bishop's have 10 or fewer people in them, providing students with a feeling that they can have their voice heard among their classmates.