Capilano University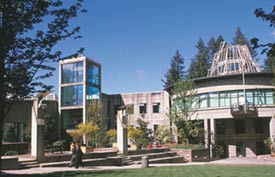 About Capilano College
Capilano has earned an international reputation for quality teaching, programs and services. We strive to instill the knowledge, skills, motivation and attitudes that will enable our students to become independent thinkers and learners, and to contribute effectively in a rapidly changing world.
Capilano is well known for providing a solid academic foundation and is committed to developing new and innovative programs in response to market demand. We offer a complete range of preparatory courses, university transfer courses, business and management studies, creative and applied arts programs, health and human services programs, plus a range of services in support of student learning and success. Credentials awarded include bachelor degrees, associate degrees, post-baccalaureate diplomas, advanced diplomas, certificates and statements of completion.
Our main campus is in North Vancouver, nestled in a natural environment on the slopes of the North Shore and only a 20-minute drive from downtown Vancouver. The beauty of the campus and the quality of education attract students from around the world. Capilano also has regional campuses in Squamish and Sechelt that serve the communities of Howe Sound and the Sunshine Coast. The total number of students enrolled in credit programs totals approximately 6,700. An additional 7,000 students register in non-credit courses each year.
British Columbia Universities