Emily Carr Institute of Art & Design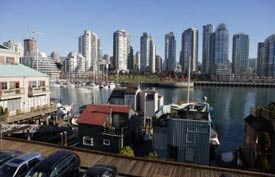 About Emily Carr
Emily Carr Institute of Art + Design was founded in 1925 and is one of British Columbia's oldest post-secondary institutions and one of the world's leading arts institutions.
Emily Carr's alumni and faculty are among the most influential and important artists, designers and media practitioners working in their respective fields. Liz Magor, who is also a Professor at the Institute, recently received a Governor General's Award in Visual Arts, one of Canada's most prestigious honours. Professor Paul Mathieu, one of the most important ceramists in Canada, won the Jean Chalmers National Crafts Award and most recently the Governor General's Award.
Most of Emily Carr's professors are practicing artists and/or scholars and aside from their work at Emily Carr, they participate in and advocate for the arts locally and internationally. The three degrees in Visual Arts, Media Arts and Design offer a careful balance of studio and academic programming. Students bring experience, vision, energy, discipline and commitment to Emily Carr and this is balanced by what the Institute offers in quality, breadth, vision and choice.
Students who come to Emily Carr will find themselves working in studios, classrooms, the concourse gallery, interning with community groups or at a local company.
British Columbia Universities