College of the Rockies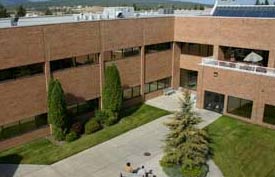 About The College of the Rockies
The College of the Rockies is a Canadian public community college, located in the southeast corner of British Columbia, Canada. The main campus is in Cranbrook, with regional campuses in Creston, Fernie, Golden, Invermere, and Kimberley.
The College offers a full range of programs " both in-class and online " in the areas of University Studies, Adult Basic Education, Health, Child Youth and Family Students, Administrative Studies, Tourism, Computer Technology, Fire Services, and Trades.
The tuition savings by attending COTR for two years can be over $3700 when compared to a major University. You can take the same courses at the College of the Rockies at 56% of the cost.
Typical University courses are taught in large lecture theatres with Professors who are often unavailable for one-on-one interaction with students.
College of the Rockies has smaller class sizes and instructors who are often available to discuss anything with students.
British Columbia Universities