The University of New Brunswick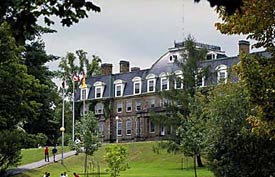 About The University of New Brunswick
The University of New Brunswick is a Canadian university located in the province of New Brunswick. UNB offers a university environment with a window on two dynamic cities - Fredericton and Saint John. Having two main campuses allows flexibility of place and field of study. Each campus has its individual characteristics, but admission and academic standards, degree programs and financial aid remain fully integrated.
UNB Fredericton is located on the banks of the Saint John river. The campus is well-known for its colourful fall foliage, Georgian style red-brick buildings and a very steep hill.
The UNB Saint John (UNBSJ) campus is located in Tucker Park in the Millidgeville neighbourhood, several kilometres north of the city's central business district and offers spectacular views of the Kennebecasis River and Grand Bay.
New Brunswick Universities