Yorkville University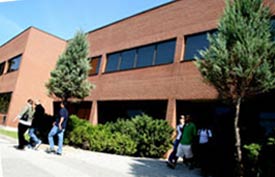 About Yorkville University
Yorkville University was established in 2003 in Fredericton, New Brunswick. The University is private and non-denominational, specializing in practice oriented graduate and undergraduate level academic programs. In March, 2004, the Department of Education of the Province of New Brunswick granted Designation status, approving Yorkville University as a degree granting institution authorized to offer the Master of Arts degree in Counselling Psychology. In August, 2007, the University acquired the venerable Ontario based RCC Institute of Technology and thus established its first undergraduate division with the addition of two bachelors programs, a Bachelor of Technology, and a Bachelor of Computer Information Systems.
Yorkville University�s and RCC Institute of Technology�s academic year is organized on a trimester basis, with three terms of fifteen weeks each plus intersession breaks in each calendar year. Terms begin September, January, and May. On line three-credit courses are generally completed in either five-week or seven-week sessions. Full-time students enroll for between nine and eighteen academic credit hours per term, depending upon the program. Online courses are taken sequentially; in-class courses are taken concurrently as in-class students have a more traditional academic schedule.
Yorkville University�s degree programs are designed for working adults with high aspirations and busy professional schedules, in that high academic expectations are mixed with an emphasis on student service and convenience, augmented by the latest advances in educational technology.
In many of its programs, Yorkville University offers the opportunity to advance your education online from the convenience of your home or office. You attend classes, study, and complete assignments at times which are convenient for you. Our academic and administrative staff is never more than a phone call or mouse-click away. In all of our programs, your professional library and bookstore are literally at your fingertips.
New Brunswick Universities