St. Stephen's University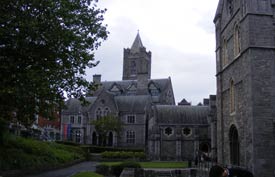 About St. Stephen's University
In 1975 the university�s founders purchased an about to be condemned building in downtown St. Stephen, New Brunswick. Gradually, with tender loving care, this once gracious family residence has been brought back to life as Park Hall, the centrepiece of SSU�s campus. In the Italian Renaissance Revival style, with an impressive interior four-storey stairway of black walnut, the building dates from the time of Canadian Confederation in 1867.
Today, the university is perched on a hill overlooking the St. Croix River--the international border between Canada and the United States. Four hundred years ago, French explorers gave this great waterway the name, "St. Croix." Samuel de Champlain and Sieur DeMonts believed they recognized the fingerprint of God in the local landscape. We like the fact that they decided to designate the great river after the Cross of Christ. In 1604-05, the French established what would become the first European settlement in North America, north of Floridaââ?¬â??just a short distance from the SSU campus.
SSU offers two streams of education�Arts & Ministry�both providing strong academic grounding and travel experience in a Christian setting. All of our programs feature small class sizes, study abroad components, and an emphasis on interaction with challenging ideas.
Our Liberal Arts Program offers a Foundation Year Diploma as the first year of a four-year Bachelor of Arts degree. In this program, students can major in disciplines such as Philosophy, Religious Studies, Interdisciplinary Studies, Literature, History, etc. The second and third year of this program includes study abroad terms in Europe and Asia, and in their fourth year students have the opportunity to earn an Honours degree by completing an undergraduate thesis.
Our Ministry Program offers training for professional and lay ministry. We offer a Bachelor of Ministry, and a Masters in Ministry degree (residential or by module) as well as several Diplomas. Students in this program spend two weeks studying and traveling in the Middle East, and a Master�s thesis is required for all students enrolled in the Masters of Ministry program.
New Brunswick Universities