St. Thomas University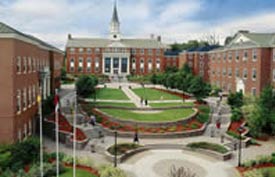 About St. Thomas University
St. Thomas University is a Catholic liberal arts university located in Fredericton, New Brunswick. It offers degrees exclusively at the undergraduate level for approximately 3,000 students in the liberal arts, humanities, journalism, education, and social work.
There are six academic buildings on campus housing classrooms and faculty offices. They are: James Dunn Hall, Edmund Casey Hall, George Martin Hall, Brian Mulroney Hall, Holy Cross House, and Margaret Norrie McCain Hall.
The cornerstone four-year Bachelor of Arts programme has more than 30 academic disciplines. Students explore various disciplines during their first two years of study, allowing them to broaden their interests before selecting an honours program or major. Small class sizes (no class is larger than 60, with an average class size of 30) encourage students to participate in discussions with peers and professors.
For students leaving home for the first time, St. Thomas residences are a comfortable first step to successful independence. Residence rooms have wireless high-speed Internet, telephone, and cable services. Each residence has TV lounges, and laundry facilities. Quiet hours are in place for study and sleep. Security staff is in residence overnight, and a residence staff member is on 24-hour duty. New students are guaranteed residence accommodations with the possibility of a single room.
New Brunswick Universities