The University of Ontario Institute of Technology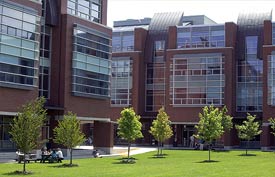 About The University of Ontario Institute of Technology
The University of Ontario Institute of Technology is located in Oshawa, Ontario. The Institute offers over 30 undergraduate degree programs, two consecutive education programs, and a number of master's degree programs.
All undergraduate programs require students to lease a laptop PC from the university as a condition of enrolment. Faculty also encourages students to use their laptops to complete assignments, perform laboratory research and interact with faculty during lectures. UOIT offers a range of undergraduate programs, and graduate programs in Science, Engineering and Information Technology.
International students make up more than five per cent of the university's student body, coming from over 45 countries, including Bangladesh, Botswana, China, Hong Kong, India, Indonesia, Kenya, Kuwait, Lebanon, Nigeria, Pakistan, Singapore, South Korea, the United States and more.