The King's University College - UWO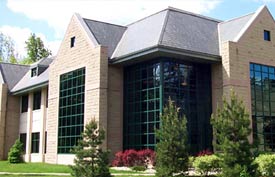 About King's University College
King's University College is a Catholic, co-educational liberal arts college affiliated with the University of Western Ontario. It was founded as the "College of Christ the King" in 1954, and was affiliated with St. Peter's Seminary.
King's stands second to no other institution of higher learning, large or small, in this country in the quality of its teaching faculty. Small classes, intensive student/faculty interaction, quality programs, comprehensive student services and a sense of community create an excellent environment for students. Combined with Western's world class facilities and reputation, King's offers 'The Best of Both Worlds'.
As a Catholic institution, King's emphasizes the value of each individual and the importance of social justice. Students from all faiths and backgrounds are most welcome, as at King's we believe that the exchange of varying ideas and perspectives builds mutual understanding.
King's students are also Western students and have complete access to all the facilities and services at the university of Western Ontario. King's students graduate with a University of Western Ontario degree.
King's students are required to take three courses at King's. Courses not available at King's may be taken at Western or the other University Colleges" Brescia or Huron. Most King's students take some courses at Western during their degree program. A complimentary bus service is provided for King's students to go to Western, Brescia or Huron. We are located on the north side of Western, about a ten minute walk from the gates on Richmond.