Brescia University College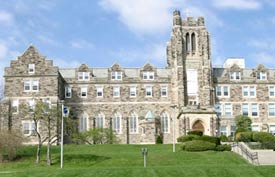 About Brescia University College
Brescia University College is located on beautiful grounds next to The University of Western Ontario in London, Ontario. As Canada's only university-level women's college, Brescia focuses on the needs of women learners. Brescia students encounter many opportunities to develop their leadership potential and are encouraged to play decision-making roles in campus organizations.
Brescia students learn to think creatively and critically and to challenge accepted opinion. These analytical skills prepare women for the challenges of future careers and social responsibilities. The number one reason why students like you choose Brescia is because of small class sizes and personal attention. The number two reason is that we are part of The Unviersity of Western Ontario.
As Canada women's college you will get the added advantage of having the teaching style, student services and leadership opportunities focused 100% on you, the female student.