Carleton University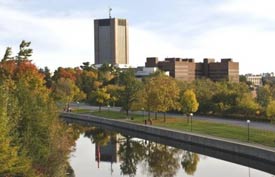 About Carleton University
Carleton University is unique within the Ontario university system for several reasons. It was founded in 1942, not by church or state, but through a community movement, initiated by the YMCA, to provide non-sectarian education and learning opportunities for the thousands of men and women who came to Ottawa in support of the war effort. Because of these roots, Carleton has, throughout its history, attempted to meet the needs of the community by making its programs and resources widely available through innovative technologies and life-long learning opportunities.
With over 200 programs in 47 departments, Carleton University offers the most innovative, relevant, and connected set of programs in the country. Whether you are interested in graduate or undergraduate studies, professional development or non-credit courses, consider Carleton to help shape your future.
Carleton University Campus
Carleton has over 150 student-run organizations that anyone can join! Catering to a variety of interests, our clubs and societies make it easy to find others with whom you share common pursuits. What's the difference between clubs and societies? Clubs are linked by a common interest, such as a hobby, culture, or religion, whereas a society is linked to an academic department.
Are you looking for a way to learn new things and be exposed to different ideas outside of class? Many clubs and societies organize exciting events, such as group outings and contests, as well as regular meetings for members. Some of the most popular organizations for students to get involved with are the campus newspaper The Charlatan , CKCU community radio station, and Sock 'n' Buskin Theatre Company.