George Brown College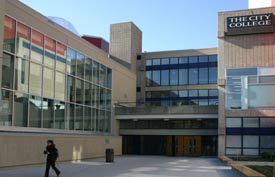 About George Brown College
George Brown College has three main campuses in downtown Toronto at Casa Loma, St. James and Ryerson University, along with 10 training facilities, from which it offers 150 full-time programs, and 1,200 continuing education courses. Students can pursue their career goals choosing from diplomas, degrees and certificates.
In addition to its industry connections, George Brown College also nurtures strategic relationships with government agencies, community partners, and educational associations, both within Ontario and beyond. By remaining widely connected to the community in which the College operates, George Brown is better able to provide the programs that will enable our students to achieve their dreams of getting the careers they want.
Although George Brown has no student residence, Toronto is a huge city with a wide array of accommodations for students.