Grant MacEwan University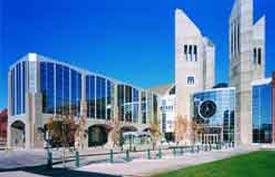 About Grant MacEwan College
Grant MacEwan College is an educational institution located in Edmonton, Alberta, Canada. Macewan has five separate campuses, each with a different focus. The largest campus is City Centre Campus, which comprises 5 city blocks near downtown Edmonton and is home to the most of the degree programs. Other campuses are located in the neighbourhoods of Mill Woods (South Campus) and Jasper Place (Centre for the Arts), and at the former Alberta College campus in the downtown core.
MacEwan College Currently offers 4 Bachelor Degree Programs, 10 University Transfer Programs, 2 Applied Bachelor Degrees, and over 60 Diploma and Certificate Programs.
At MacEwan, education must be relevant to the learners who want an education that prepares them well for a fulfilling career, and a lifetime of learning. The needs and aspirations of our students are our challenge. We strive to design and deliver the most current, relevant, and accessible postsecondary education in the province.
As educational leaders, one of our tasks is to hold a vision of the future that shapes a program of study. We wish to share that vision with others, and we are committed to continuously improving curriculum and instruction with new learning.