The University of Calgary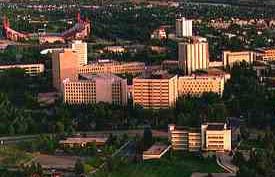 About The University of Calgary
The University of Calgary is a large research-intensive public university located in Calgary, Alberta, Canada. The University of Calgary offers over 150 programs in post-secondary education awarding bachelors, masters, and doctorate (Ph.D.) degrees. The university campus has an area of 2.13 kmÃ?â??Ã?² and hosts, in total, 16 faculties, 55 departments and 36 research institutes and centers.
The residence buildings on campus can house up to 2500 students, situated in eight buildings, all named after mountains in the Canadian Rockies. The two "traditional" buildings on campus are called Rundle Hall and Kananaskis Hall and were built in the early 1960s when the university relocated to its present campus. Five newer buildings named Glacier, Olympus, Norquay, Brewster, and Castle Halls were built just prior to the 1988 Winter Olympics to act as the athletes' Olympic Village during the games.
The U of C is pursuing the biggest single capital expansion in its history. Fuelled by Alberta's nation-leading economic growth, the university has embarked upon a $1.5-billion plan to add capacity for 7,000 more students and a host of new teaching and research activities. These major developments " the Taylor Family Digital Library (TFDL), the Urban Campus Partnership, the Experiential Learning Centre (ELC) and the new home of the Institute for Sustainable Energy, Environment and Economy (ISEEE) " are fulfilling distinct academic strategies and creating fundamentally different learning environments.
More than 1,900 international students from nearly 90 countries are enrolled in the U of C's undergraduate, graduate and professional degree programs.
Recognizing that international learning is integral to a contemporary, well-rounded education, the U of C has set an ambitious goal to increase the number of students learning overseas through exchange programs to 30 per cent of all graduating students by 2010. In 2007, more than 1,000 University of Calgary students will participate in overseas learning experiences.