Southern Alberta Institute of Technology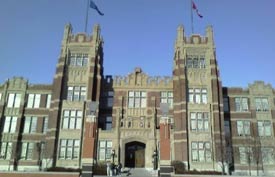 About Southern Alberta Institute of Technology
Southern Alberta Institute of Technology is located in Calgary, Alberta, Canada. It is a polytechnic undergraduate college. Offering more than 70 applied degrees, diplomas, and certificates, it serves as a polytechnic institution for the city of Calgary and Southern Alberta.
n addition, SAIT's Board of Governors hosts three Chairman's Circle meetings every year. More than 70 business and community leaders provide insight to the institution on economic, technological and societal trends in their respective fields, towards developing SAIT programming.
This comprehensive advisory system explains why SAIT Polytechnic enjoys one of the best graduate employment records in Canada - an average of 97 per cent over the past five years. This impressive record also reflects the numerous partnerships the Institute has with leading national and international companies. These partnerships have also led to the establishment of 11 Centres of Technology Development on campus, many of them unique in Canada. These specialized facilities ensure that SAIT graduates have the advanced skills that will enable them to realize their career ambitions and at the same time contribute towards the highly-skilled workforce required by the economy.