Taylor University College and Seminary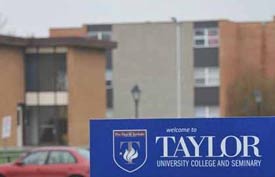 About Taylor University College and Seminary
Taylor Seminary is a centre for Christian higher education, a place where students and staff can nurture both head and heart. Located in southwest Edmonton, Alberta, Canada, Taylor occupies a beautiful, tree-lined 26 acre campus. The central ââ?¬Å?Campus Greenââ?¬Â connects all of the main buildings while other landscaped areas provide places for quiet study, prayer, or simple relaxation.
Students at Taylor choose from a number of academic disciplines at both the undergraduate and graduate levels. Founded in 1939, Taylor prides itself in a heritage dating back to its beginnings as Christian Training Institute. Our seminary prepares leaders to serve in churches, missions agencies and marketplace ministries at home and abroad.
Taylor College & Seminary is located on a beautiful 26-acre campus in southwest Edmonton. As capital city of the province of Alberta, cosmopolitan Edmonton has much to offer its nearly one million residents.
Edmonton is one of Canada's centres of higher education. The University of Alberta, Concordia University College, The King's University College, Grant MacEwan College, Northern Alberta Institute of Technology, and a number of other educational institutions provides a challenging educational climate, as well as superb research library facilities.
Edmonton boasts the world�s largest shopping mall and North America�s longest contiguous urban parkland along the river valley, which cuts through the heart of the city. It is also a major centre for the arts and home to three professional sports teams.
In addition, more than twenty North American Baptist churches, as well as numerous other evangelical churches, provide diverse opportunities for involvement in Christian service. Situated in the middle of the western Prairies just east of the Rocky Mountains, Edmonton is the perfect place to view your future.