Canadian University College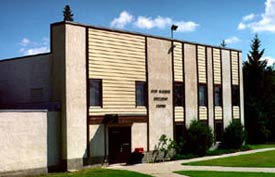 About Canadian University College
Canadian University College (CUC), located in Lacombe, Alberta, is a Christian university offering over 20 fully accredited undergraduate degree, diploma and certificate programs. CUC is accredited through the Campus Alberta Quality Council. CUC is sponsored by the Seventh-day Adventist (SDA) Church; although a significant number of students come from an SDA background, all students who are interested in living and studying in a Christian environment are welcome to apply. With enrollment approaching 400 and a student-teacher ratio of 8-1, CUC has a family-like atmosphere.
Affiliated with CUC and operating on the same campus, are Parkview Adventist Academy (a grades 10-12 boarding school), Loma Linda University�s Marital and Family Therapy Master�s Degree program, and La Sierra University Extended Campus Program offering a Master of Arts degree from its own School of Education.
Academic growth of the institution has been continuous for almost a century. In 1919 the Board of Trustees authorized the establishment of a junior college. This followed in 1947 with the development of a four-year program in theology. In 1971 Canadian Union College, as it was known from 1947 to 1997, entered into an affiliation agreement with the University of Alberta. What was initially an agreement that covered first year courses only was later extended to include the second year. Between 1979 and 1996 the University College offered several baccalaureate degree programs through a Partner Campus Agreement with Union College, Lincoln, Nebraska. The final year of the Union College Partner Campus Agreement was the 2007/08 academic year. Between 1991 and 1996 the Government of Alberta authorized the University College to offer several three- and four-year degree programs. In 1997, to more correctly reflect the degree-granting status of the institution, the name was changed to Canadian University College.