Alberta Bible College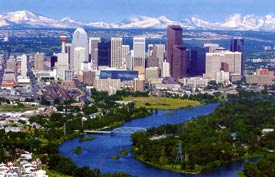 About Alberta Bible College
Alberta Bible College began in the midst of the "great depression" July, 1932. The elders of the Lethbridge Church of Christ gave their minister, Charles H. Phillips, authorization to found a college and to devote the necessary time to teaching. The College was a child of vision and faith, and of the urgent need to equip servant leaders to serve the Great Commission through the church in the growing Canadian West.
As a college committed to equipping men and women for effective service to the church and for proclamation by word and life of the good news of Jesus, we are focused on being Bible and Ministry Specialists. Our range of degrees demonstrates our unwavering commitment to this process in Christian growth.
One of the strengths of ABC is the Practical Ministry Program and our commitment to learning while serving and serving while learning. Students find the opportunity to become involved in hands-on ministry throughout their entire time at ABC to be one of the most meaningful aspects of their learning experience. These opportunities allow students to discover passions and abilities and to develop confidence and leadership skills. The practical ministries team in cooperation with local leadership help the students to learn to cope with problems, to relate to people, and to set and carry out goals.