Portage College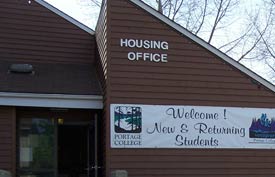 About Portage College
Portage College is a public board-governed college operating under the Alberta Colleges Act. The College is open to all adult learners. Its primary service area is northeast Alberta with its main campus in Lac La Biche and with community campuses throughout its service region.
Portage College offers a variety of basic academic and employment entry and skill development training programs. The College emphasizes programs that help students upgrade their academic backgrounds to meet admission requirements to programs at post-secondary institutions, to qualify to challenge first year apprenticeship or other standardized examinations, to transfer with credit to other Alberta institutions,
to secure employment, or simply to learn to read and write.
Portage College offers a range of first and second year university transfer courses in a variety of disciplines through its University Studies program. Portage College's skill oriented career programs are usually at the certificate and diploma level. These
programs are aimed at the needs of business, industry, organizations and communities within the College's service region.
These programs are in the areas of health, social services, Native culture, business, technical, apprenticeship, vocational training and pre-employment trades. The College also develops and delivers additional courses and programs on an ad/hoc cost-recovery basis in response to emerging learning needs.