The King's University College - Alberta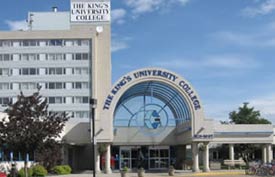 About The King's University College
A Christian undergraduate university founded in 1979, The King's University College offers three- and four-year Bachelor degrees in the arts, humanities, social sciences, natural sciences, and commerce, as well as a two-year Bachelor of Education after-degree. Students can enrol in over 300 courses in 20 disciplines, with 12 major concentration areas.
Currently The King's University College has over 630 students enrolled in Bachelor of Arts, Bachelor of Science, Bachelor of Music, Bachelor of Commerce and Bachelor of Education programs. The King's accepts academically qualified students of all faiths into its programs. Thanks to the University College's size, classes are relatively small and students are able to interact on a personal level with professors. Students also have the opportunity to participate in faculty research projects. In recent years, The King's commitment to a culture of research has resulted in a number of student presentations at national and international academic conferences, as well as student-authored academic publications.
The King's has an active intercollegiate athletics program, competing in the Alberta Colleges Athletic Conference in men's and women's basketball, volleyball and outdoor soccer. Club sports include hockey and indoor soccer.
Located in Alberta's dynamic capital city, just minutes from downtown Edmonton, The King's 21,000 m2 modern campus occupies over eight hectares. Facilities include: 34 classrooms, eight science labs, three computer labs, a greenhouse, fine arts studios, a performance hall with pipe organ, 1,200 m2 library, 900 m2 gymnasium, spacious cafeteria, student activity centre, drama space, bookstore, conference rooms, atrium assembly space, outdoor sports fields, and two student residences.
The King's attracts students of all ages from a variety of backgrounds. Its educational philosophy is rooted in the historic Christian faith and its teaching and research are influenced by a Christian worldview. The University College stresses academic excellence within a caring environment.