Maskwachees Cultural College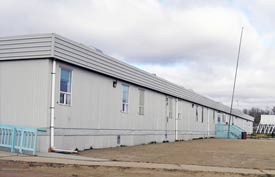 About Maskwachees Cultural College
Maskwachees Cultural College was established formally, by the Four Bands of Hobbema, in 1974 as a Cultural Centre under the Cultural/Educational Centres Program of Indian Affairs Canada. During the period from 1974 to 1986, the College concentrated primarily on preserving a historical record of Plains Cree culture and history. The College also served as a centre for the support of Cree language development and teaching in the community. Post-secondary opportunities were provided to members of the Four Nations as needed by brokering courses from various public institutions.
By 1986 it was clear the community of Hobbema had great need for higher education and training to be made available locally. The Board of Governors, with assistance and support of the Chiefs of Samson, Ermineskin, Louis Bull and Montana Bands, decided to seek formal recognition for the college as a post-secondary institution. In July 1988, the Legislative Assembly of Alberta passed the MaskwacÃ?Æ?Ã?®s Cultural College Act (Bill PR20), establishing the college as a Private Post-Secondary Institution in Alberta with authority to grant certification to students at the Certificate and Diploma levels.
In 1987 our status changed yet again when MCC university courses were recognized as transfer equivalencies to the University of Alberta, the University of Calgary, the University of Lethbridge and Augustana University College. While students at MCC have, for many years, been able to complete the first two years of a University degree in Hobbema they are now in a unique position of being able to take MCC accredited university courses rather than brokered courses from other institutions. Students at MCC can complete the first two years of various University degrees, as well as a variety of upgrading, certificate and diploma programs. Recent milestones for MCC include the brokering of MCC university courses to Yellowhead Tribal Council in Edmonton and the brokering of our Early Childhood Development Program to Lesser Slave Lake Indian Regional Council at Grouard, Alberta.